Maybe this should be your next BOB (Bug Out Bag) item?
—
Unmanned surveillance drones are a global concern, but designer Adam Harvey has concocted an outlandish solution.
—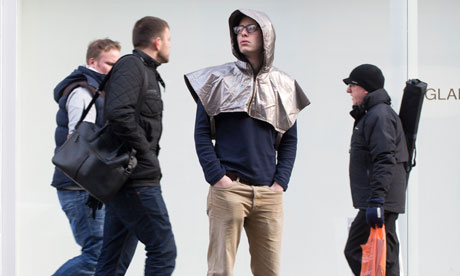 … "The kind of person who would wear it really depends on what drones end up being used for. You can imagine everything, from general domestic spying by a government, or more commercial reconnaissance of individuals." I suggest perhaps political protesters. "Yeah, sure. Maybe that's the actual market."
Harvey is well aware his work can seem a little before its time. "I wouldn't say many people have a problem being imaged by drones yet," he deadpans. "But it imagines that this is a problem and then presents a functional solution."
Reality, to be fair, is not so far behind. Over the next 15 years the US Federal Aviation Administration anticipates more than 20,000 new drones will appear in American skies, owned not just by law enforcement agencies and the military, but also public health bodies and private companies.
In the UK, several police forces are already experimenting with drones, and not just for thermal imaging. "They can be equipped with things called IMSI-catchers that will work out the mobile phone numbers of any people in a certain area," explains Richard Tynan, research officer at campaign group Privacy International.
full article: The anti-drone hoodie that helps you beat Big Brother's spy in the sky | Art and design | The Guardian